Deleted Scenes
Press / Book Group Material
Artworks Referenced in this Story
This is a list of all the artworks mentioned in Stealing Ghosts. All the named artists are real. Some of the paintings are also real, while others — chiefly Sargent's Dorotea De Villardi — have been added to the named artists' catalogs.
Links in author names will take you to a Wikipedia biography. The title refers to the painting I chose to use, whether or not I mention the title in the text. The image is either the specific painting, or a representative of the artist's work that's similar to what Matt describes in the text.
Some of the paintings referred to as "stolen" in the story are actual stolen artworks still being sought by their owners and the police. In these cases, I've added the name of the database where the particulars of the crime can be found.
Chapter 1
John Singer Sargent, Dorotea De Villardi

[Not a real painting, but the background and Dorotea's pose is similar to this one: Portrait of Mrs. Waldorf Astor]
Chapter 4
Thomas Gainsborough, Ann Ford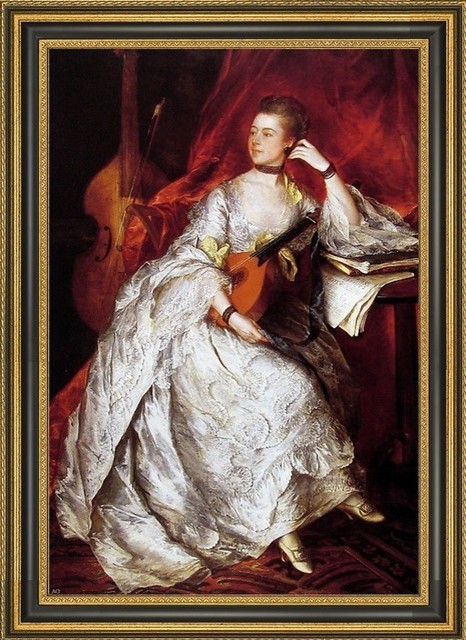 "…an apple-cheeked young woman wearing a billowing brocaded-silver gown and holding a lute…"
John Everett Millais, Mrs. James Wyatt Jr. and Her Daughter Sarah

"'Mom and the kid aren't looking at each other.'"
Jean-François Millet, Woman Baking Bread

"…a woman shoveling raw bread into an open-flame oven—she has Carson's arms…"
Chapter 12
Robert Ladbrooke
"…an 1838 Robert Ladbrooke landscape…"
[Not a specific painting, but similar to this one: Wooded Landscape With Woman And Child Walking Down A Road]
Chapter 29
Maximilien Luce
"…a small steamboat churning down a mirror-like river, trees on either side, fluffy clouds ahead…"
[Not a specific painting, but similar to this one: Charleroi, Barges on the Sambre]
Chapter 31
Josef Maria Auchentaller
"…a Secession portrait and landscape artist…"
[Not a specific painting, but similar to this one: Elfenreigen]
Egon Schiele
"…a German Expressionist Ralph Steadman filtered through Robert Mapplethorpe…"
[Not a specific painting, but similar to this one: Kneeling Girl, Resting on Both Elbows][one of his tamer late works]
Bolesław Biegas
"…soft-core vampire porn…"
[Not a specific painting, but similar to this one: Walka z wampirem]
Chapter 36
Mary Cassat
"…a pretty, later Cassatt…"
[Not a specific painting, but similar to this one: Mère et enfant (Reine Lefebre and Margot before a Window)]
Jean-Honoré Fragonard, The Musical Contest

William McGregor Paxton, The Housemaid

Scottish School, Mrs. Margaret Wilson of Bantaskine, 1843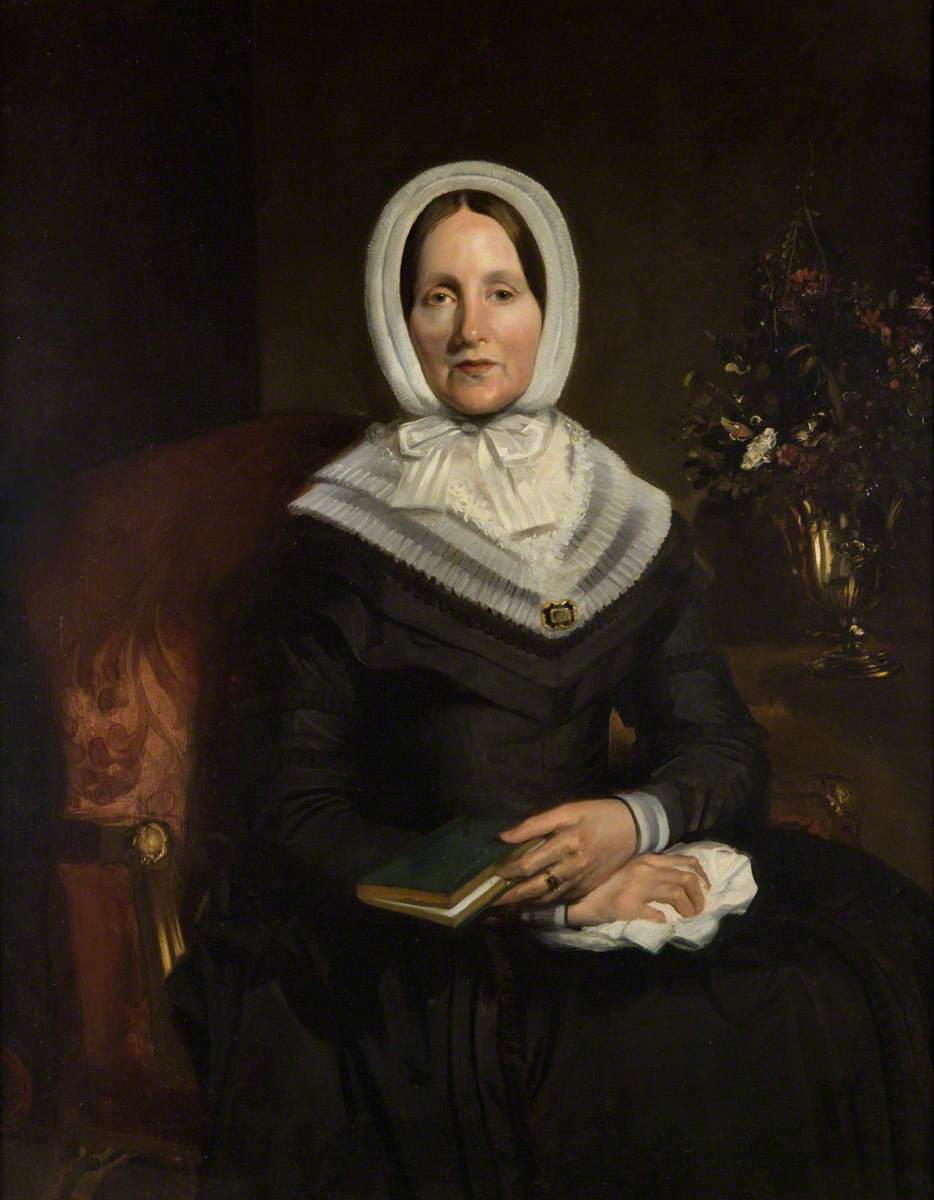 "…a sour-looking woman in an early-eighteenth-century black dress and white headdress…"
Chapter 38
Oswald Auchenbach, Italian Landscape

"…Tawny hills, cypress and plane trees, a ruined Roman temple in the background, tiny sheep and a miniature shepherd…"
[Not a real painting, but similar to this one: Evening Mood near Ravallo in the Roman Campagna]
Chapter 61
Johann Jungblut, Sonnenuntergang

"…a mottled Impressionist sunset, faceless figures walking on ice, a ghostly windmill almost lost in the misty distance…"
[Not a real painting, but similar to this one: Winter Scene With Fishermen]
Fritz von Uhde, Christus mit den Bauern (lostart.de)

"…a Nordic Christ visiting a farm family in their home…"
Chapter 62
Clara von Sivers, Stilleben mit Rosen

"…a dozen big, pale roses arranged in a metallic pot, resting on an off-white cloth printed with large paisley designs…"
[Used to be on lostart.de, but isn't anymore; it may have been returned to its owner. The picture shown is representative.]
Chapter 66
Dirk van der Aa, Putti with Fruit and Rural Equipment (Allegory of Summer) (lostart.de)

"…a typically over-busy Rococo scene of putti screwing around…"
Andreas Achenbach, Sailing Skiffs near the Coast (lostart.de) 

"…seascape with sailboats…"
[No picture available, but probably similar to this one: Fishing Boats in Stormy Seas]
Lucien Adrion, Sailing Boats in a Harbor (lostart.de)

"…an Impressionist view of sailboats in a harbor…"
[No picture available, but probably similar to this one: Deauville, Les Planches ]
Yevgen Agafonov, At a Countryside Courtyard (lostart.de) 

"…Another Impressionist, this time of what looks like a courtyard at a country estate…"
[No picture available. Virtually none of Agafonov's work is online. Spring Festival is shown so you have an idea of what his work is like.]
Jules Salles, Girl with Tamburine (lostart.de)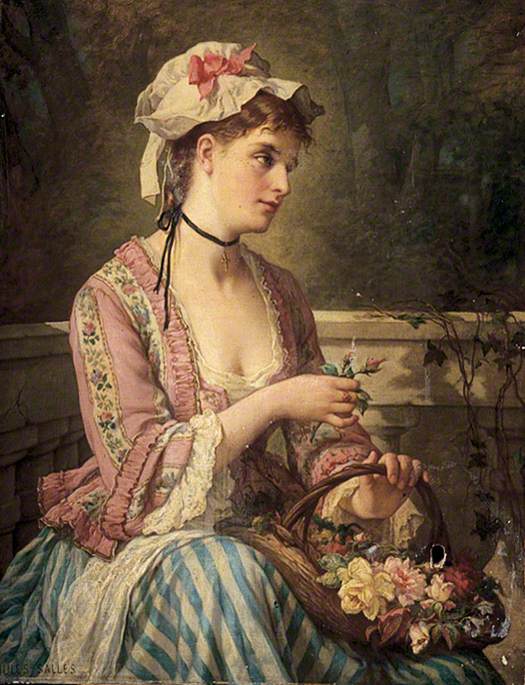 "…a sticky-sweet Romantic portrait of a girl in peasant dress holding a tambourine…"
[No picture available, but probably similar to this one: Woman in Eighteenth-Century Dress]