Press / Book Group Material
Artworks Referenced in this Story
This is a list of all the artworks mentioned in The Collection. All the named artists are real. Some of the paintings are also real, while others have been added to the named artists' catalogs.
Links in author names will take you to a Wikipedia biography. With one exception (the Corot in Chapter 1), the title refers to the painting I chose to use, whether or not I mention the title in the text. The image is either the specific painting, or a representative of the artist's work that's similar to what Matt describes in the text.
Some of the paintings referred to as "stolen" in the story are actual stolen artworks still being sought by their owners and the police. In these cases, I've added the name of the database where the particulars of the crime can be found.
Chapter 1
Jean-Baptiste-Camille Corot, Ferme près Ville D'Avray

"…a stone farmhouse, green-gray trees, a couple fat, white cows…"
[Not a real painting, but similar to this one: Luzancy, Petites Maisons de Paysans au Bord de L'eau]
Chapter 6
Samuel Palmer, An Italian Scene (INTERPOL Works of Art Database)

"…watercolor-on-board landscape…"
Wilhelm Leibl, Weißbärtiger Alter Kopfstudie.

"…portrait of a farmer with a serious beard…"
Chapter 15
Ferdinand Hodler

"…a mid-career Hodler…"
[Not a specific painting, but similar to this one]
Paul-Albert Bresnard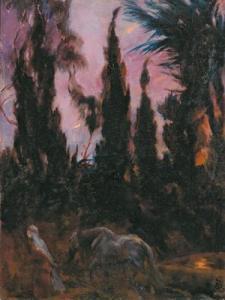 "…a Bresnard landscape…"
[Not a specific painting, but similar to this one]
Jules Dupré

"…seascape with a lateen-sailed boat in the center…"
[Not a specific painting, but similar to this one]
Francisco Oller

"…landscape…"
[Not a specific painting, but similar to this one]
Chapter 23
Leonardo da Vinci, The Last Supper

"Carson's jaw drops. So does mine. Da Vinci's The Last Supper does that to you."
Chapter 24
Joaquin Mir Trinxet, The Rector's Orchard

"…an orange orchard, a church, afternoon light, loose brushwork…"
"…a Dutch Realist cityscape—snow on tidy Dutch rooftops, a frozen canal, mist, people pushing sledges…"

[A representative example of the genre]
Charles Camoin, L'église de Piana en Corse

"…a blocky small town at the base of a green hill, white walls and terra cotta roofs, the silhouette of distant mountains, vivid colors, more shapes than details…"
Chapter 25
Arnold Böcklin, Elysian Fields

"…nymphs and satyrs grab-assing in a forest clearing…"
[Not exactly this one, but like it]
Eugene Boudin, Harbor Scene (FBI National Stolen Art File)

"…a harbor scene with derelict sailing ships and an overcast sky…"
Chapter 33
Henri Fantin-Latour, Bouquet de Roses Dans un Verre (INTERPOL)

"…a glass vase of showy white roses on a wooden stand with a pile of blooms off to the right…"
Chapter 41
Agnolo Bronzino, Madonna and Child
Giovanni Fattori, Haystacks

"…mid-career scene of pastures and hayricks…"
[Not this one, but like it]
Theodore Robinson, French Farmhouse

"…gauzy Impressionist landscape and farmhouse…"
Émile Bernard, Still Life with Teapot, Cup and Fruit

"…still life…"
Maximilien Luce, Le Quai Conti

"…a dreamlike Parisian streetscape at dusk…"
Federico Zandomeneghi, The Reader

"…a young woman on an iron bench in a park, full of Renoir-like color and sweetness…"
[Not a real painting, but in the same spirit as this one]
Chapter 54
Caspar David Friedrich, Rast Bei der Heuernte (INTERPOL)

"…pastoral featuring haystacks in front of a ruined castle…"
Alfred Sisley, Le Jardin au Bord de L' Eau (INTERPOL)

"…a moody canvas of a garden on a riverbank…"
Pierre Bonnard, Uriage (INTERPOL)

"…mid-career pastoral…"